It's Friday! We've had a great week here at the B2Be house, with family visiting from out of province and lots of fun activities. This weekend we're planning to hang out with the relatives a little more before they head home, and then next week we've got MORE relatives coming from my side of the family! It's going to be faboosh. D has been having a blast getting to know everyone again - she loves to visit and chat with the grown ups. She's not such a big fan of the pets over at her Grampy's place, but to be fair I wasn't a big fan of dogs either at her age! To each their own, right? Can't blame the kid. :)
On to the important topics for this morning... Five Question Friday: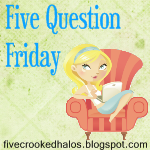 1. W
ho is the better cook, you or your spouse?
Ahahahahaha... I WISH that my husband would use the stove once in a while. Sadly, I do all of the cooking for our family. So I guess I'm the best by default! Even if he DID cook, though, I'd still be the best. Because I'm awesome like that.
2.
How often do you talk to your mom?
Every day. I love my Mom!
3.
Are you adventurous in the kitchen or stick to the recipe?
Totally adventurous, I almost never USE recipes let alone "stick" to one. Occasionally they are my inspiration to try something new. Unless, of course, I am baking. Baking is more of a science than an art.
4.
Is your second toe longer than your big toe?
Uhhh... Not sure, but I think so. Am I supposed to know this? I mean, is it weird that I don't?
5. Do you dress up for Halloween? (Bonus question: What will you be this year?)
I like to throw on a Tiara and a set of fairie wings, and call it a costume.
Have a great weekend, everyone!!!