It's Friday, and I am chillin' out here this morning with a couple of sleeping babies. I guess that means I have time to do a blog hop or two. :)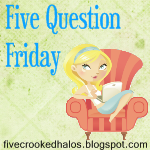 Five Question Friday
1. What is your favorite part of a Thanksgiving meal? The roasted garlic mashed potatoes, and the pumpkin pie!
2. Are you a host or a guest for Thanksgiving this year? Well, since I'm in Canada we had Thanksgiving a while ago already - nope, I wasn't a host. We celebrated later in the month, when family from the US was visiting, and my Mom hosted.
3. When you think of one Thanksgiving tradition, what comes to mind? We usually go to the lake for Thanksgiving! Since having D, it's been more difficult to do that and we often miss out. : (
4. You have two pieces of pie in front of you and you HAVE to eat one...do you choose pumpkin or pecan? Pumpkin! We never have Pecan though, it's always Pumpkin or Chocolate Cream - in which case, I eat both! No shame on Thanksgiving, my friends.
5. Are you a Black Friday Shopper? Nah. The good deals here are primarily online. DH and I will often do small gifts for Christmas, and then have what we call "Christmas on Boxing Day" so we can buy more stuff! That's when we hit all the sales.
Have a great weekend, everybody.